We realize that creating a men's skincare line can be a pain point for many businesses. What packaging, style and products should you carry? Here are our top skincare recommendations for private labeling a men's line.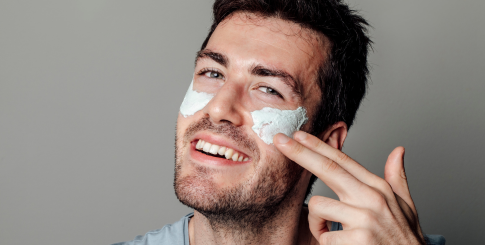 Products for Men's Skincare
This cleanser is designed for all skin types. It's going to provide that foaming action when cleansing the skin. A simple, gentle wash that will remove the dirt and grime from a long day of work.
Key Ingredients:
Pro-Vitamin B5
Vegetable Glycerin
A quick spritz to the skin to help balance ph and fight off any blemishes presented on the face. A good clarifying toner that does not strip the skin after use. A toner is great addition to a skincare line as it helps better penetrate serums into the epidermis.
Key Ingredients:
Alpha Hydroxy Acids
Organic White Willow Bark Extract
Organic Aloe Leaf Juice
Tea Tree Essential Oil
Everyone, as well as men can benefit from a good Antioxidant facial Serum. It works to benefit the skin in multiple ways such as; working to correct uneven skin tone and texture, dullness, and elasticity. This skincare formula will leave the skin refreshed and refined for the day.
Key Ingredients:
10% Vitamin C
Hyaluronic Acid
Aloe Leaf
L-Arginine
We are keeping the moisturizer simple with the Light Moisture Cream. This lightweight formula contains no nut oils allowing for sensitive skin types to embellishment in this simplistic cream. The perfect cream for day and night.
If you want to keep it even more simple with your skincare for men, try doing two products. Mix and match out of the four products we recommended. For example, maybe your male customer needs more correcting, so you can offer the Total C Complex and Light Moisture Cream together. This way your client is staying moisturized while working to heal his skin.
What Packaging Should you Choose?
If you want your skincare line for men to be distinct, opt for a different packaging type. A good option would be our amber packaging. This could offer a more manly touch to your product and better persuade your male customers to purchase. If you have a website you can bundle these products as a kit for easy check out.
Styling your Label
This part is up to you! You can take your men's line in a total different direction graphic wise or leave it with your original look. This all depends on how you plan to market your product. Plan out a strategy with your team to help create better results when you decide to launch the brand. See what other companies are doing and how you can expand on that and make your skincare line unique.
Have you thought about adding a men's line to your skincare business? For more information on private label and where to begin, send us an email at info@aestheticbackbar.com.
New to Private Label? START HERE!