Professional Facial Treatment Spa Protocols by Aestheticians for Aestheticians
We have created a list of professional esthetician products and facial treatment protocols using the Aesthetic Back Bar
.  Many of these facial protocols will give you ideas on how to do a facial with our products or  incorporate our treatments into your current services.  Our professional skin care products are very versatile and can be used on an array of skin types.  These protocols were created by aestheticians for aestheticians.  We have tested these in our facial treatment rooms and picked our favorite professional facial protocols to sharen with estheticians.  Feel free to email us any suggestions or ideas on how to use our formulas.  These facial protocols are intended to be used as ideas or suggestions on how to do a facial.
---
Best Signature Facial Treatment Protocol – Signature spa facial protocol is a great signature facial option.  This treatment can be used on all skin types and leaves the skin polished, gently exfoliated, nourished and glowing.
Revitalizing Enzyme / Papaya & Pineapple Enzyme Treatment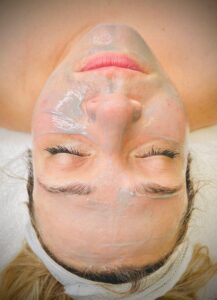 ---
Clarifying Facial Treatment Protocol –
Clarifying & Purifying Treatment  – This professional facial protocol is best for acne prone, hormonal, skin with clogged pores or oily skin types.  With this facial treatment you can exfoliate, soften skin and prepare it for extractions if needed and purify the pores.
---
Gentle Exfoliating Facial Protocols for all skin types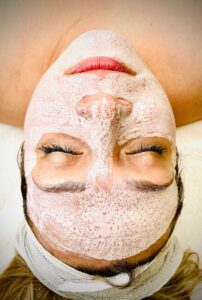 Beet & Tumeric / Anti-Aging Moisture Mask Treatment – Clays in this facial treatment protocol will gently exfoliate without drying or irritating the skin making this great for even your dry skin types.  Beet & Tumeric/Anti-Aging mask contains nourishing ingredients and also AHAs to polish up the skin leaving it radiant.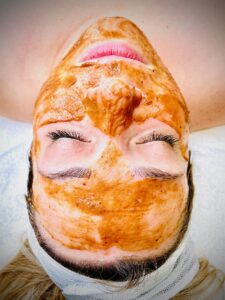 Microdermabrasion Treatment – Microdermabrasion treatment protocol is a very popular staple in the skin care spa industry.  We have a sample facial microdermabrasion protocol for estheticians.
Retexturizing Enzyme Exfoliating Facial Treatment – Pumpkin is the perfect Enzyme Complexion Peel to offer in your spa facial treatment menu.  It is gentle enough you will not have any flaking from the treatment.  You can do this treatment every two weeks to help brighten, reduce appearance of pores, clarity and texture of skin.  Many spas sell this in a package of 4-6 to get the glowy skin their clients desire.
Tropical Facial Treatment – We have used the Revitalizing Enzyme in the past and it was super successful. The reason I chose it for a "everybody" facial is that this enzyme is so gentle you can use it on pretty much everyone. It works to brighten and polish the skin. It gobbles up dead skin without any tingling or burning.
---
Rose Spa Facial Treatment Protocols
Refreshing Rose Facial Treatment – Refreshing Rose Mask is a great calming treatment that is great for all skin types.  A wonderful finishing mask that can calm, nourish and lightly hydrate the skin.  This professional spa facial treatment mask is used after the Radiant Rose mask with 10% Glycolic. Exfoliating Rose Gel Mask is scented with rose and formulated with glycolic to gently exfoliate.  Aestheticians will love this facial mask that is formulated with aloe.
---
Best Soothing and Calming Treatment Spa Facial Protocols
Crisp Cranberry & Cucumber Facial Treatment
Crisp Cranberry & Cucumber Mask is soothing can be applied after an intense or irritating treatment or as a mask in your signature facial.
Refreshing Rose Facial Treatment – Refresing Rose Facial Treatment is a great calming treatment that is great for all skin types.  A wonderful finishing mask that can calm, nourish and lightly hydrate the skin.  This spa facial treatment mask can be used after the Exfoliating Rose Gel mask with 10% Glycolic.
---
Best Hydrating Facial Treatment Protocols
Nourishing Glow / Hydrating Mask Therapy – Hydrating Mask facial protocol is the best option for your skin types that are dry, dehydrated and mature skin.  The Hydrating mask is great to nourish and hydrate the skin leaving it dewy and polished.
---
Best Anti-Aging Facial Treatment Protocol
Revitalizing Firming Mud Mask Treatment – This professional facial treatment is great for those concerned with anti-aging.  This treatment contains key ingredients DMAE and MSM with are powerful anti-aging topicals.
---
Clinical Facial Treatment
Micro Needling Treatment – Also called collagen induction, this treatment created micro channels and stimulates collagen.  Microneedling is great for resurfacing skin.
Dermaplaning Treatment – This professional dermaplaning treatment will remove dead skin and vellus hair from the skin. It helps to brighten and give the skin a beautiful glow.
Brilliance Brightening Treatment – This treatment is packed with three key exfoliating ingredients. Pumpkin Enzyme, Glycolic Acid and Lactic Acid provide a deep exfoliation. For sensitive or skin types that are new to enzymes and acids the Revitalizing or Retexturizing masks are great to start with. The Brilliance Exfoliating Mask is a deeper treatment.