Professional Clarifying Mask
Introducing one of our newest masks.  The professional Clarifying Mask is one of our favorites.  It gently draws out impurities and absorbs oil leaving the skin revitalized.  This mask can be used with steam or a hot compress in the facial treatment.  The Clarifying Mask is a great treatment for most skin types.  Because it is not aggressive or irritating you can use it even on dryer hormonal acne prone skin.  This mask has a cream consistency that is also hydrating at the same time.
Skin Types: Normal – Combination – Oily – Acne Prone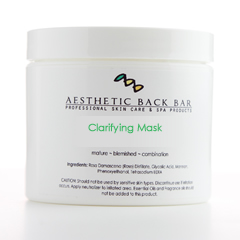 Contains Charcoal
Detoxifies & clears pores
Draws out toxins
Gently purifies skin
Tightens pores
Smoothes & softens skin
Non-irritating & non-drying
No parabens or synthetic ingredients
This professional Clarifying Mask will gently detoxify, revitalize and purify the skin. This mask uses key ingredients like Activated Charcoal and Organic White Willow Bark Extract to do all the work.  Activated Charcoal is very absorbent and soaks up toxins from the skin. Aesthetic Back Bar's Clarifying Mask naturally draws out impurities helping prevent future breakouts. Did you know Charcoal can absorb up to 800 times its weight in toxins. Activated Charcoal is the medicinal form of Charcoal.  Activated Charcoal is very porous and that is how it is able to trap bacteria, toxins, dirt and chemicals. It is proven to trap thousands of times its own weight in harmful particles. Organic White Willow Bark Extract is a great anti-inflammatory, anti-bacterial that helps to unclog pores and gently exfoliate the skin.  Other ingredients that are nourishing and healing the skin care are  Aloe, Green Tea, Vitamin E, Vitamin C, Vitamin B5, Hyaluronic Acid, Vitamin B3, and Pomegranate Extract.
SAVE 15% off on any size of the Clarifying Mask.  Use coupon code: PURIFY15