Every time I introduce a client to a skincare regime, 10 out of 10 clients ask me: why do I need toner? Or "I don't have time for an extra step".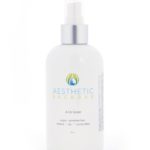 Toners are great for the skin and isn't just an extra step.  Here are 5 reasons why toner is a must:
Toners can be used morning and night – it prepares skin for moisturizers and anti-aging treatments. Think toner as an appetizer before main course.
Toners are the most gentle way to exfoliate the skin – help to minimize (shrink) and clear pores, reduces breakouts and blackheads
Toners help to restore your skin's natural pH balance – will clear excess oil without going overboard and stripping skin. The skin pH is between 5 and 6 but because soaps are alkaline, when we wash our face, it disrupts the skin pH balance. Then skin needs to work overtime to return to its oils level but toner can help restore balance quick.
Toners adds layer of protection and moisturizes– because it tightens cell gaps reducing penetration of impurities, protecting the skin against environmental contaminants. Toners remove chlorine and minerals present on the tap water, while binding moist to the skin.
Toners prevent ingrown hairs – toners that contain glycolic and alpha hydroxyl acid can help to prevent ingrown hairs.
My favorite toner is Aesthetic Back bar AHA Purifying toner because it is a natural multi functioning product that is skin balancing, tightening, exfoliating and blemishing control. It contains Alpha Hydroxy Acids to gently exfoliate and balance the skin tone. Black Willow bark provides naturally occurring salicylic acid to fight the causes of acne. DMAE gives the skin a tight and polished appearance while the essential oils get to the root of acne. This step closes the pores, adjusts the pH of the skin and removes any remaining cleanser or dirt from the skin. AHA Purifying toner is great for normal, combination/acne skin.