Having a set of masks that will do the work for all skin types is ideal! Here we have 5 masks that will take care of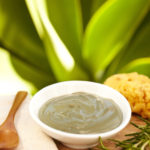 every skin type in a facial.
Papaya Pineapple Enzyme Mask – This is our go to for everyone. You can use this mask in the exfoliating phase of your facial or even after a Dermaplaning or Microdermabrasion.  This mask gets rid of the dull dead skin and leaves your clients skin looking amazing.
Clarifying Mask – This is the perfect mask to use to help clean out pores. If you need to do a purifying treatment this mask can be used on normal, dry and oily skin types.  Because it is not over drying it is gentle enough even on sensitive skin types.  This mask can be used with steam or a hot towel compress.
Renewal Mask – This is a gentle mask packed with clays and alpha hydroxy acids. It will exfoliate the skin without leaving the skin feeling sensitive.  It will cleanse and brighten up the skin.
Rose Cooling & Regenerative Mask – This professional soothing mask is great for all skin types and can be done after exfoliation or even waxing. This beautiful smelling mask is wonderful for calming the skin.
Hydrating Mask – This mask is great for dry to mature skin types that need more moisture. It will hydrate and plump up the skin.  It is boosted with hydrators like Hyaluronic Acid, Organic Olive and Jojoba Oils plus antioxidants.