I think we can all agree the year is flying by and evidently the weather is warming. We wanted to provide you with the best paired skin care products to go with the lovely hotter months that are approaching. Stay tuned for skin care duos that will result in better skin for your clients. Firstly, we want to mention all of the products below can be used in private label, white label and or back bar!
Brightening and Hydrating Duo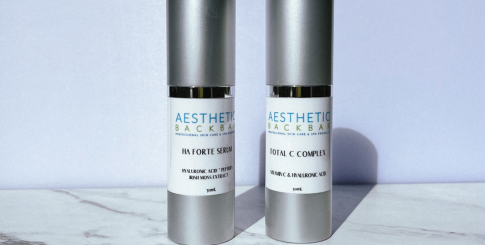 Keep your skin hydrated and glowing by pairing the Total C Complex and Ha Forte with Peptides. Perfect edition to a morning routine or a correcting facial treatment.
Product Highlights:
Total C Complex Serum: Contains 10% Vitamin C and Hyaluronic Acid to help with uneven skin tone, texture, loss of firmness and elasticity. This clinical serum is for all skin types and is formulated WITHOUT parabens, sulfates and phthalates.
Ha Forte with Peptides: This lightweight serum is perfect for plumping and hydrating the skin. This treatment serum is water-based and design to lock in all of that moisture. The Ha Forte Serum was created to help with dryness, wrinkles, dullness and texture. Key ingredients include snow algae, Hyaluronic Acid, peptides and coconut fruit extract. This skin care product is gluten free, vegan, and non-gmo. It is also formulated WITHOUT phthalates, parabens, and sulfates.
Anti-Aging Skin Care Product Pair
Preventive care is an important step to take to decrease signs of aging. Slow down aging with Retinol and Moisturizers. Keeping the skin hydrated inside and out will give a radiant, glowing outcome as you continue to age. As we all know, aging is inevitable, so let's do it gracefully with the following skin care products.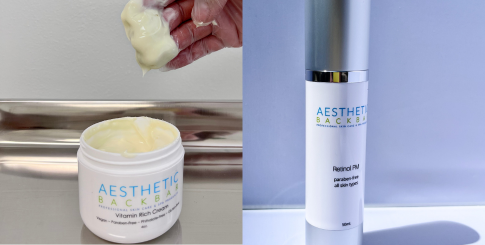 Product Highlights:
Retinol PM: This powerful blend contains antioxidants, retinol and Hyaluronic Acid. This skin care product is going to help with water retention and lessen fine lines and wrinkles in the skin. Best used in a nighttime routine as retinol can cause sensitivity to the skin.
Vitamin Rich Cream: Lock in the retinol by using our luscious vitamin packed moisturizer. This cream is formulated with Vitamins E, C, B5, & A and composed with a powerful antioxidant (Organic Rooibos) to fight off free radicals.
A Two Product Skincare Routine
This duo is for the customers that want to keep it extra simple and stick to the basics. Provide them with a good cleanser and moisturizer to get them through the day. This would be a great option for male clientele to keep skincare from seeming too complicated.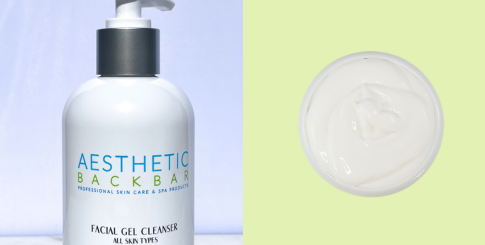 Product Highlights:
Facial Gel Cleanser: This is our gentle, foaming cleanser for all skin types. It was produced to have no sulfates or parabens in the formula. This facial cleanser can be used to prep the skin in your treatment room.
Light Moisture Cream: Lightweight cream designed for all skin types as well as sensitive skin types. It contains no nut oils and gives the skin a smooth finish. This will keep your skin hydrated for the day. This duo is meant to be used morning and night.
Interested in one of the duo skin care products? Send us a message at info@aestheticbackbar.com. Let us know what service you are interested in and we will get you on the right course of action.