This is a rule that everyone that has a business should know about. Many times we get caught up with serving our customers now and doing what we need to do now and forget to work smart. About 20% of your customer's produces 80% of your sales. The 80/20 rule applies to a lot more than just customers. The 80/20 rule was derived from the Italian Economist Vilfredo Pareto. Pareto's Rule states in a business context 20% of the business effort generates 80% of the business results. The 80/20 principle is a great concept to apply to the aesthetic business or really any business. Basically the 80/20 rule of marketing helps you find your best customers. You can apply this rule to your business costs, products and services and your customers.
80% of profits come from 20% of customers
80% of product sales from 20% of products
80% of sales from 20% of advertising
80% of customer complaints from 20% of customers
80% of sales from 20% of the sales team
80/20 In Business Costs
Identify what 20% of expenses is using 80% of the resources. One way it is used is in looking at how much money is spent on advertising. Generally 20% of the marketing produces 80% of the results. So when you understand what advertising messages produce the most you can get rid of the rest that doesn't give you a return.
80/20 in Product and Services
When you look at your mix of products you sell you can see about 80% of revenue comes from about 20% of the products or services offered. We can refer to these products or services as cash cows. By looking at this you can see how you can increase or emphasize the value of the main products or services offered. You can also try to expand your sales by targeting new customer groups that would be interested in these products or services.
80/20 for Customers
You can look at your customer relationships with this rule to analyze and see if about 20% of your customers create about 80% of the profit for your business. With this information you can create loyalty or frequency programs. Make sure your best clients get the best value and best experience because this way you get the best results. For example send your best clients a postcard or give them a gift with purchase. Just go the extra mile with them. They are the ones making you the most profits. Also, ask yourself "where are my customers coming from?", "Is it a similar neighborhood or area?". These are areas you can focus geographically.
Customer Pyramid
The Customer Pyramid is a great tool to see what you need to offer and who to market to. Great especially for those that are visual.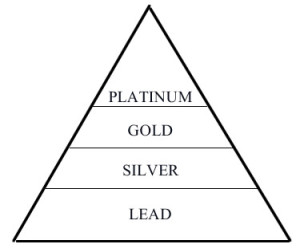 Platinum Level – Top 20% off Clients
Gold Level – customers that contribute to profits and may join the Platinum level.
Silver Level – May contain customers that contribute to profits. Usually these are cost-conscious customer and to retain them you must provide the basic service at minimal cost.
Lead Level – These customers are usually unprofitable. They demand a lot from you like time, resources and are unwilling to pay for them.
How do you make decisions? Reporting.
To be able to analyze your customer, products and sales you need to make sure you are keeping track of your sales to generate reports. This is very important. You need to know who your best clients are. This way you can market to this group and maximize your marketing dollars. Are you keeping track of sales?  Do you have a website and can you logon to see your traffic to your site? Do you have an email list? You can also create a survey on Survey Monkey or Constant Contact and ask your clients what they want and need.
Are you offering everything your top customers need and want?
Are there treatments your spa or clinic not offering?
Are you giving your customers enough opportunities to buy?
Are you leaving money on the table?
What is your time worth?
By using the 80/20 rule on a regular basis you can keep spa resources efficient and decrease costs. At the same time this rule helps remind you to go the extra mile with clients.
References:
Neil Kokemuller, http://yourbusiness.azcentral.com/80-20-rule-marketing-6554.html
Arthur W. Hafner, Ph.D., M.B.A. , http://www.bsu.edu/libraries/ahafner/awh-th-math-pareto.html
Dave Chaffey, Smart Insights, http://www.smartinsights.com/marketing-planning/marketing-models/paretos-8020-rule-marketing/