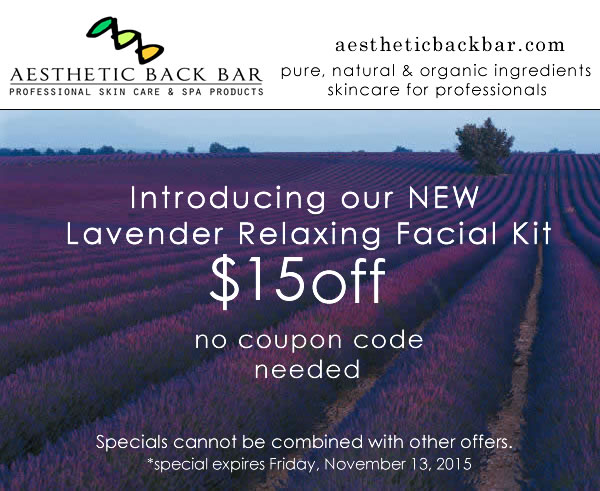 Our Lavender Facial Treatment a versatile treatment that can be done on most skin types.  The Lavender products are scented with Lavender Essential Oils. Lavender is a very refreshing and relaxing essential oil that is healing and soothing to the skin. Great for sensitive skin types.
(Gentle Exfoliation, Soothing, Relaxing) All Skin Types, Especially Sensitive Skin types
Cleanse twice with Facial Cleansing Gel
Tone skin with Lavender Toner
To exfoliate the skin apply thin layer of Papaya & Pineapple Enzyme Mask. Use with Steamer or hot towel compress.
Massage Lavender Face & Body Lotion on hands while mask is on.
Leave on for 3-10 minutes depending on skin type and rinse
Apply Lavender Gel & Mask ( can apply hot towel compress)
Leave on for 5-10 minutes
Massage Lavender Face & Body Lotion to neck, shoulders and upper back.
Apply Antioxidant Anti-Aging Eye Cream
For Combinationn or Oily skin types you can apply a dime size of Lavender Gel & Mask and use as a moisturizer. If skin is more normal to dry apply Niacinamide Serum (*Optional – can penetrate with Skin Scrubber or Ultrasonic Machine)
Apply Light Moisture Cream for combination skin or Renewal Moisture Cream for dry skin.
Lavender Facial Treatment Kit Contains:
Facial Gel Cleanser 2oz.
Lavender Toner 2oz.
Papaya & Pineapple 2oz.
Aloe Gel & Mask 2oz.
Lavender Face & Body Lotion 2oz.
Niacinamide (Vitamin B3) Serum 2oz.
Antioxidant Eye Crm 1/2oz.
Light Moisture Cream 2oz.
Renewal Moisture Cream 1/2 oz.