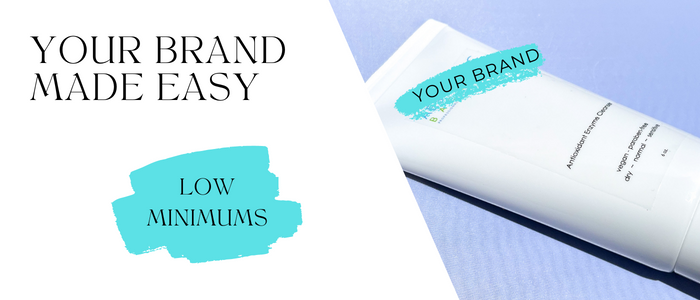 We believe in natural and organic ingredients for our skin for beautiful results without harming the environment. Our large selection of wholesale professional skincare products are made with natural and organic ingredients. The best botanicals from all around the world are used to create the best skincare for your spa clients. The professional skin care formulas use naturally derived bases rather than the industry standard chemically synthetic. Because our products are tested in actual skincare studios and med spas, we know what formulas work well with all skin types. Our formulas are aesthetician curated and tested in real skincare clinics.
Types of Skincare Ready to Label
Professional Enzyme Complexion Peel Masks
Bentonite Clay Facial Masks
Charcoal Clarifying Facial Masks
Hydrating Facial Masks
Glycolic Facial Masks
Mud Facial Masks
Calming Aloe Masks
Professional Facial Kits
Antioxidant Serums
Retinol Creams
Cleansers and Toners
Moisturizers
Clinical Skincare
Brightening skincare creams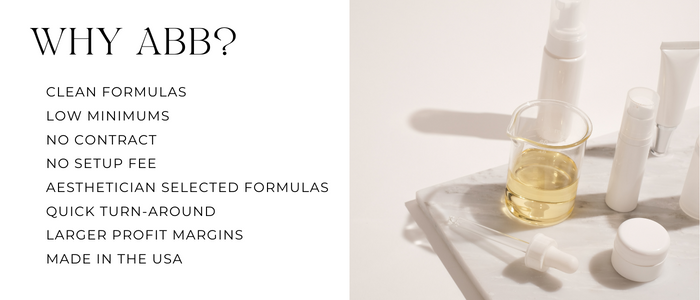 We work with many small businesses to create their skincare line. We know it is important to offer your own skincare brand in house to increase profit margins and keeps sales in house. Private labeling is available with low minimums and a fast turn around time to help keep you stocked without over stocking your shelves. Our clients include small solo estheticians, day spas, boutiques, online stores and medical spas. White labeling is available for those businesses that want to label their products themselves.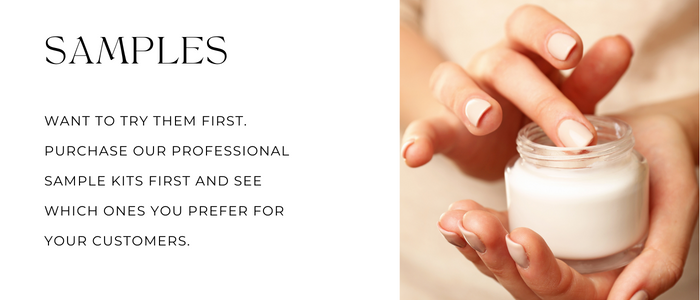 Purchase our professional sample kits first and see which ones you prefer for your clients and facials. Visit https://aestheticbackbar.com/samples >> for more!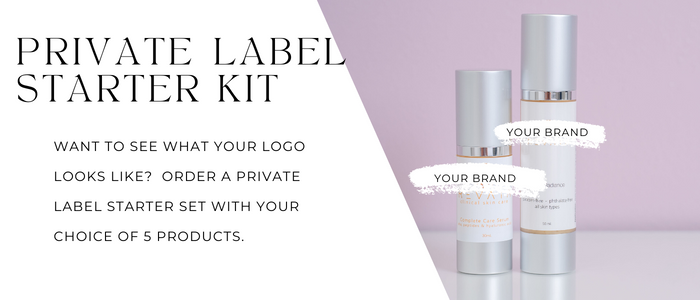 Order a Private Label Starter Set with your logo. Select your choice of 5 products with your label printed on your packaging. Visit https://aestheticbackbar.com/product/private-label-starter-package>>
View our Catalog of private label skincare products. We have descriptions with ingredients list here. View Catalog>>
Select Your Packaging Style!

Mixing styles is also an option. Not sure which will look best with your logo. Contact us and we can help you decide.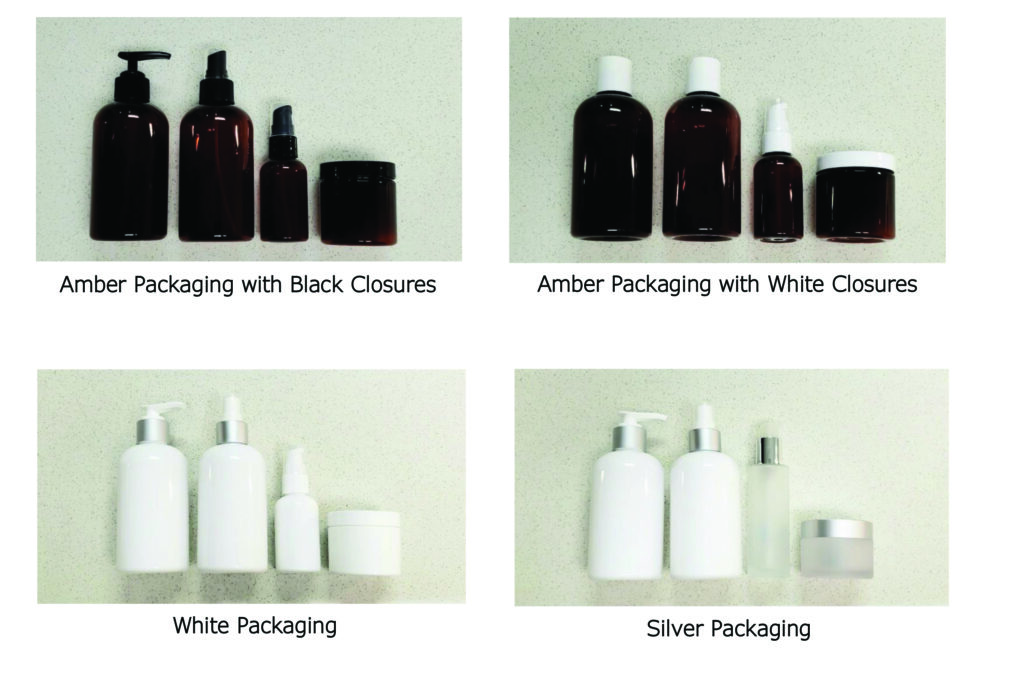 Labels & Designs
Our templates allow you to have a professional water-proof labeling with your logo, company name and product information. We print directly on the packaging to provide a professional waterproof look. Send us your logo and we will send you images for approval. You can also change the product name.

Have a graphic artist? We can send you the label sizes and you can have your designer create your label images.
White Label Skincare – Want to order without labels? We can send you the product for you to label. We will deduct .50 per item ordered when ordering without labels.
Select your product and Email or Call us with your order.
Contact us: Feel free to contact us at info@aestheticbackbar.com and send us your logo with the private label agreement. This will tell us what packaging you selected and details about your business. We will send you an invoice via email with the order for confirmation and payment.
Product Selection: If you need help narrowing down your product offering let us know and we can help. Ordering samples is a great way to test formulas and narrow down your selection. You can go to our samples page to order Trial Sizes / samples. Order Samples>> View Catalog>>
Turn around time: Turn around time can take about 1-2 weeks once we receive your logo and label approval. Allow for more time if you request waterproof labels. Following orders take less turnaround time. For larger orders times may vary.
Pricing: Pricing includes label and product. Products can be purchased with minimums of 6 items per sku. If you need to order higher quantities, we can quote that for you. If you want White label skincare and do not need the packaging labeled we will deduct .50 cents for each item. View Private Label Pricing>>
Trial Sizes / Sample Sizes: Trial sizes are available for private label.  This is a great way to promote and cross sell your skincare.  Request pricing and details. 
For more information or questions, please contact us.